Road Test: The Miniature Schnauzer
As German as apfelstrudel, the Miniature Schnauzer is a perky bright eyed little fellow with a blocky physique accentuated by the technique of clipping designed to highlight this together with his bushy beard, moustache and eyebrows.
Related to the other two Schnauzers (Giant and Standard) he has been shown as a separate breed since 1899.
HISTORY:
Thought to have originated from a cross between the Standard Schnauzer, the Affenpinscher and perhaps the poodle, the miniature schnauzer is originally a German breed deriving his name from the German word for muzzle.
They were originally bred to be a small farm dog able to go to ground for all kinds of vermin – in essence a typical terrier.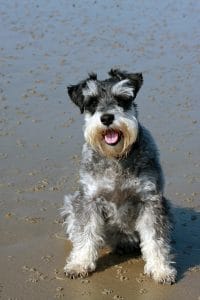 APPEARANCE:
A small, squarely proportioned dog with a long head, bushy beard, moustache and eyebrows he is generally clipped to accentuate this square cut shape.
His tail is generally docked (now illegal in Western Australia) with ears folded over or standing erect if cropped (also considered unethical for vets to perform in Australia).
The coat is interesting being double, with a hard, wiry, outer and a close inner coat. Colours include salt and pepper, black, and harsh black with a silver outer coat. White is not favoured and leads to disqualification unless on the chest and minimal.
He needs to be clipped regularly to keep his coat in trim and to maintain the characteristic and unique look of the Schnauzer.
A small dog the males are slightly larger than the females. They are generally in the range of 28-33cm tall and between 5-8kg in weight.
CHARACTERISTICS:
A perky, bright eyed dog, they are loving, intelligent and, generally, very energetic and playful companions.
Being affectionate and good with children they are recommended for families, with a few reservations, but generally they love everyone and can be trusted apart from a reticence with some strangers.
Whilst they are generally obedient they can be feisty and aggressive towards other dogs (often much larger than themselves) and so should be socialised as puppies so that management in the park is not a chore!
Typically terriers they tend to bark quite a bit which can be an issue with neighbours though as a result of this make good watch dogs.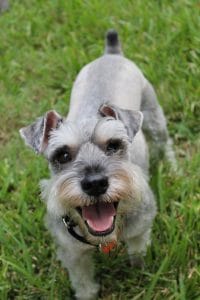 WHO SHOULD HAVE ONE:
They get on very well with children and so make an ideal family pet once they have been socialised. It is important, as with most dogs, to make them feel part of the family so this is not one for having in the backyard with little contact.
Their small size and clean habits make them ideal for apartment living, and they can do without a backyard, although they enjoy brisk walks and games with their people.
VETERINARY PROBLEMS:
Due to their potential to be feisty it is as well to look at the parents for temperament particularly as a family pet.
They are generally a very healthy dog but do suffer from a few things such as kidney and bladder stones, liver disease, skin disorders, diabetes and hereditary eye problems.
The coagulopathy known as von Willebrand's disease has also been reported in this breed.
These documented problems are generally not all that common and so be prepared to have your miniature schnauzer for 14-15 years with a bit of luck.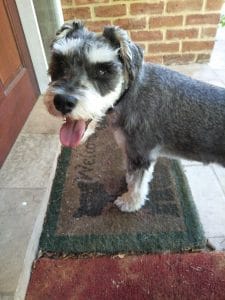 All in all they come highly recommended and enjoy considerable popularity in suburban Perth where inspite of their small size they make up for this with their big dog attitude.