Meet your pet's dedicated care team
DR MICHELLE HARRISON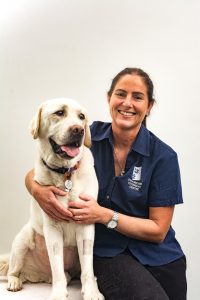 PRACTICE OWNER AND VETERINARIAN

Michelle joined the practice in September 2005 not long after she and her family arrived in Australia from England.
Born in Scotland, she was brought up on the tea plantations of India and Malawi.  She later returned to Scotland, attended university in Glasgow, and qualified as a vet in 1995.
She spent the next 2 years in the Welsh hills treating anything from hamsters to bulls.  It was here she met her husband, Harry, and together they then moved to the Cambridgeshire Fens where she spent a further 2 years in mixed practice.
Realising that the safe, warm, clean confines of surgery appealed to her more than the cold, dirty, often hazardous conditions of large animal practice, she hung up her wellies and moved to a small animal emergency hospital in Bedfordshire where she worked until June 2005.
Michelle and Harry have 2 daughters – Chloe and Amy – and in July 2005, Michelle and her family arrived in Perth to start a new life in the sun with the emphasis on spending more quality time as a family.
On the vet front, Michelle loves the diversity of general practice but her main interests include surgery, orthopaedics, dentistry and rabbit medicine.
Michelle shares her house with her fun-loving labradors, Gus and Saffy, and 2 cheeky cats, Mango and Skittles.  She spends a lot of her spare time chauffeuring kids, managing netball teams and officiating at surf clubs.
Michelle and her family are now firmly entrenched here in Perth, and Michelle is now enjoying the new challenges that come with owning a veterinary practice.
DR MELANIE CRIDDLE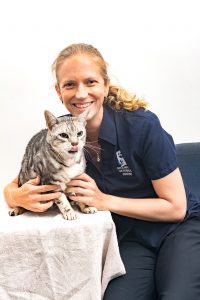 PRACTICE OWNER AND VETERINARIAN
Melanie joined us in March 2011, having previously worked in a mixed animal practice in Geraldton, and in small animal practice in Perth.
A 2001 Murdoch graduate, she completed her membership of the Australian College of Veterinary Scientists in small animal medicine in 2007 and has a special interest in this field and cancer care.
A local girl, having been educated at St Hildas, Melanie is married to Paul, an Investigative Steward with RWWA, and they have a daughter Madison.
Her outside interests include boating and fishing, scuba diving and snorkelling and she also plays the piano.  Much to Tony's disappointment, she is an avid West Coast Eagles supporter!  To round off the household she shares her home with a Bengal cat Cooper and Jake the Beaglier.
Melanie is committed to providing a high quality of care to her patients, and is also enjoying the world of veterinary practice ownership.
DR TONY VIGANO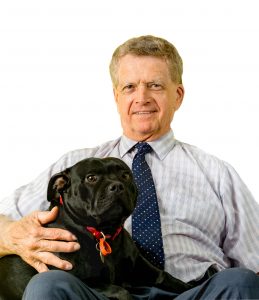 VETERINARIAN
Tony joined the practice in January 1969 after spending 2 months as a student in the Christmas of 1967/68. He was employed to allow the fledgling Doubleview practice to increase its hours and apart from a period 1973-76 spent in the UK has been here ever since. He joined Ian Miller in partnership in 1976 and became the sole owner in 1988 on the tragic death of Ian in that year.  He sold the practice to Dr Michelle and Dr Mel in July 2021, but remains on the veterinary team!
A past president of the WA Division of the Australian Veterinary Association (1984), he was inaugural chairman of the Australian Veterinary Boards Council (1999-2001) and was a member of the Veterinary Surgeons' Board in WA from 1988-2003 and chairman from 2001-2003.
He remains active within the AVA and is currently a co-organiser of the WA State Conference held in September concurrently with the AVA/Murdoch/Trade Fair that he has convened since 1981, and is currently a senior sessional member of the State Administrative Tribunal since 2005.
Since the sale of the Doubleview practice in March 2004 he has assumed a more active hands on role at the Swanbourne practice and completes 50 years in practice at the end of 2018.
To say he is enjoying the success of his beloved Cats (Geelong Football Club) is an understatement. An active supporter since 1955 he has been ecstatic with their current success.
DR MONICA LIN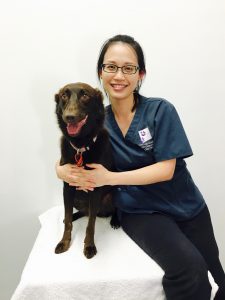 VETERINARIAN
Monica joined the practice in July 2011 and recently returned to work part time after becoming a mum to Freya. She is definitely a super-mum and continues to run her kelpie Cherry everyday and is hoping little Freya will join the run in the near future.
Monica also has 3 cats at home (Luna, Ashlee and Silver) which she describes as the destructive indoor variety honing her house keeping skills on a regular basis!
Originally from Taiwan where she graduated with a Bachelor of Science in Zoology, she decided to follow the pathway of becoming a veterinarian after her own dog had an unsuccessful procedure and joined a practice working part time before she came to Perth.
Once in Perth she applied to the Veterinary course at Murdoch University and subsequently met her husband Joshua, so all the pieces started to fall into place.
A real pocket rocket Monica feels her size limits her in sports but loves dancing, swimming, scuba diving and table tennis and from what I can see her determination more than makes up for her small stature.  Soccer and tennis absorb her as a spectator though Tony has been trying to sell her the benefits of following the Mighty Cats!
She has completed an acupuncture certificate and she now offers acupuncture services within the clinic and also as home visits.
DR LEAH RICHARDS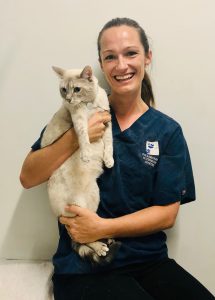 VETERINARIAN
Leah has now joined the Swanbourne Vet team permanently, but has previously done some locum shifts with us since March 2017.  She graduated from Murdoch University in 2009, and upon graduating, moved back to her hometown of Melbourne, where she worked in Small Animal veterinary hospitals for 8 years.
Longing for Perth's sunny weather and outdoor lifestyle, she and her family moved back to WA.  Leah is married to Leon (also a vet!) and they have 2 young children – Ernie and Layla.  They also share their house with Luna, a 2 year old rescue domestic shorthair cat.
Leah grew up in Melbourne, attending high school at Wesley College, and then went on to commence study in a Bachelor of Science degree at Melbourne University.  2 years into this, she was accepted into the Veterinary Science course at Murdoch University and moved to WA.
In her spare time, Leah enjoys running and yoga – she is currently completely a 2 year yoga teaching training course! She also loves to spend time with her family in the great outdoors – you will mainly find her at the beach.  And of course, she is an avid Collingwood Pies supporter, and so siding with Tony in the Swanbourne clinic rivalry of Victorian vs WA AFL teams is alive and well.
Leah enjoys all aspects of canine and feline medicine and surgery, and has a particular love of fostering the special bond between owners and their pets.  Dear to her heart is ensuring that ageing pets are comfortable and have optimal quality of life in their geriatric "golden years".
DR BETH THOMPSON
VETERINARIAN
Beth hails from Gisborne in New Zealand where she was dux of her secondary school, Campion College in Gisborne.
She completed a Bachelor of Science in Biomed at the Auckland University before moving to Perth to study Veterinary Science at Murdoch University.
Her pedigree for the position includes grandparents who owned a dairy farm and a stepfather with a cattery so she definitely has the background.
Two sheep, an aged retriever and younger Labrador along with a host of chickens and two cats all make up her menagerie, which her mum is hosting in her absence!
In her spare time she runs half marathons regularly and aims to do a full marathon one day!
Beth has worked at Swanbourne for several years now, initially on weekend reception. She is now part of our wonderful team of veterinarians that take loving care of your pets. Look out for Beth when you are next in the practice!
DR TESS BASFORD
VETERINARIAN
Tess joined our team in May 2023 having previously worked in small animal practices in Perth and Margaret River.
She grew up surrounded by lots of animals (sheep, cattle, horses, dogs and wildlife) in Esperance and Margaret River, and has a farming background.  As a vet, Tess loves most aspects of Veterinary Medicine and Surgery, however she has particular interest in endocrinology, pathology and pain management (especially in geriatric patients).  She prides herself in continually providing excellent quality care to her patients and clients at the clinic.
Tess shares her life with her husband John, son Sebastian, and her 2 working Cocker Spaniels Hugo and Finn.  Despite all their problems, Tess is a Cocker Spaniel tragic!
In her spare time, Tess enjoys Alpine hiking, cycling, travelling, baking, horse riding, walking the dogs and spending as much time with her family as possible.
Welcome to the team Tess!
KRISTY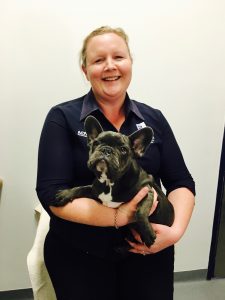 PRACTICE MANAGER AND VETERINARY NURSE
Kristy is one of our success stories joining the practice fresh from school 20 years ago as the kennel hand. At the same time she enrolled in the part time Veterinary nursing course at Bentley TAFE which she completed with ease and then joined the full time nursing staff at Swanbourne.
Her reliability and unflappable nature have made her an integral part of the practice and she ensures the back half of the practice functions efficiently organising the vets and supervising the younger staff.
She took the plunge in April 2009 marrying Mark and they now have 2 children in tow – Mia and Zac.  They share their life with Storm the Staffie.  Kristy enjoys spending time with her family, and going camping and 4-wheel driving.
KYLIE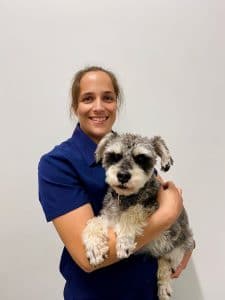 VETERINARY NURSE AND HOSPITAL MANAGER
Kylie is one of our senior veterinary nurses. She commenced with us in March 2005 as a kennel hand and grooming assistant, whilst doing the nursing course part time.
From Tambellup, Kylie attended the local primary school and then completed high school at the Katanning High School. She relocated to Perth and commenced a government traineeship in veterinary nursing which allowed her to work full time with us during the course.
Her family has a farm in Denmark, and coming from a country background there is no shortage of pets in the household with dogs, pet sheep and fish. Having done work experience at a vet clinic in Bunbury, as well as helping her father in the shearing shed during school holidays, we believed Kylie was the perfect choice, and she has certainly fulfilled our hopes.
Kylie shares her home here in Perth with her partner Mark, and her Miniature Schnauzer Odin.  In her spare time, Kylie is a lover of sports, and enjoys kickboxing and kayaking and spending time in the gym.  She also has her own personal training business called Unleashed Active, with classes for dogs and their owners.  Kylie hopes to travel more and further her education in Management and Behaviour.
MICHELLE
VETERINARY NURSE
Michelle joined our team in April 2014 having completed her nursing course (certificate 4) in 2013.
Michelle grew up on a large sheep and grain farm in the Great Southern town of Jerramungup attending the district high school until year 9 after which she completed her education at Penrhos in 2009. She attended TAFE here in Perth completing several animal related certificates including the cert 4 nursing qualification.
Like most country girls she worked extensively on her parent's farm as she grew up. As a general rouseabout, on the wheat bins, drenching, needling, drafting and jetting sheep she gained lots of experience and it is no mystery that she is now a veterinary nurse. Throw in chaser bin driving, work at a reptile park, and volunteer work with native animals it is no surprise she looks forward to continuing specialised courses as she furthers her studies.
In all of this she finds spare time to play netball, as well as scrapbooking, cross stitching and card making.  She also loves to go camping and travelling.  Sharing her life with partner Robert and their Domestic Shorthair cat Mustang, they have plans to one day travel the world with an emphasis on France.
It is a pleasure to be surrounded by people like Michelle in our every day work and we look forward to her long association with the practice.
OLIVIA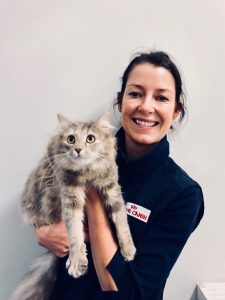 VETERINARY NURSE
Olivia joined the team at Swanbourne vet midway through 2018.
She is a Perth girl and finished her secondary schooling at Hollywood High School.  She then spent 2 years overseas in Berkshire (UK) working with horses.
On returning, she started work at the Dunsborough Vet Clinic. From there she completed the Certificate 4 nursing course at Subiaco and was there for 7 years. After this she spent two years in NSW returning to Perth in 2014.
Olivia enjoys her sport, specifically boxing and running.  She shares her household with her two children Ella and Oscar, and her senior female labrador Sunny.
Olivia loves to go down south in her spare time, visiting the wineries and beaches along the coast.
EMMA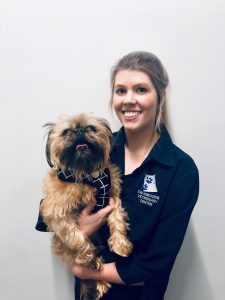 VETERINARY NURSE
Emma has recently joined the Nursing team at the Swanbourne Veterinary Centre, and has a Bachelor of Communications, whilst recently graduating as a Veterinary Nurse with a Certificate 4 from the Applied Vocational Training Centre.
A local Claremont girl, Emma was educated at MLC and attended the practice with her family dog Otis the Griffon.  She now has her own fur baby Loki, a gorgeous cavoodle!
Along with her family, she enjoys travelling, having recently been to Hong Kong, and is also keen on tennis, boxing and netball.
Her recent employment includes traineeships at Vetwest and the Perth Cat Hospital and her aim is to achieve a diploma in Veterinary Nursing.
So, watch out for Emma when next you attend the practice as we welcome her to what we hope will be a long and successful career here at Swanbourne.
SAMANTHA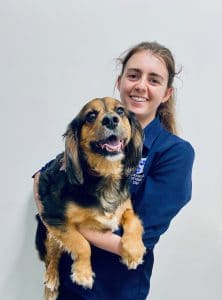 VETERINARY NURSE
Samantha joined our Swanbourne team in May 2021, having completed Certificate 3 in Companion Animal Services in 2016 and Certificate 4 in Veterinary Nursing in 2017.  She has worked previously at the Cat Cafe in Perth, and also volunteered at a wildlife sanctuary for 2 years.
Sam shares her life with her wife TJ, Archie a cavoodle, a Burmese-X cat called Obi, and Luna a domestic shorthair.  She has a keen interest in dog and cat behaviour, and hopes to become an animal whisperer!
In her spare time, Sam enjoys being outdoors, hiking, snorkelling and exploring the great state of WA.  She is a keen skateboarder and loves hanging out with her family and friends.
KIAH
VETERINARY NURSE
We are pleased to welcome Kiah to the team here at Swanbourne.
Born and bred in Perth she shares her life with Juniper, her black adopt-a-cat. Kiah has attained a Bachelor of Arts in Theatre and Drama from Murdoch University, a field in which she worked for some time before her love of animals, including working as a pet sitter, directed her towards Veterinary Nursing.
She has completed Certificate 3 in Companion Animal Services and Certificate 4 in Veterinary Nursing at TAFE, and hence her position with us. She so impressed the team with her diligence as a work experience student that she was offered the job when it came up. Her aim is to further her studies in the field of Animal Behaviour.
In her spare time, Kiah enjoys reading, cooking and baking.  She also enjoys animal training, and has taught Juniper a few tricks!
Good luck Kiah and welcome to the practice for what we hope will be a long and fruitful partnership.
LEAH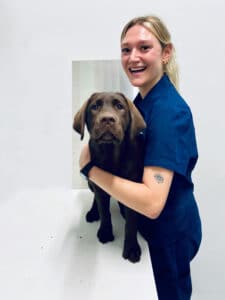 VETERINARY NURSE
Leah joined our team in March 2022 having gained her Certificate IV in Veterinary Nursing in 2021.  She is a Perth girl who enjoys travelling and has lived in many places around the world – interstate in Victoria and New South Wales, as well as overseas in England and Canada, however Leah still calls Perth home!
Having previously worked at the Dog's Refuge Home in Shenton Park, as well as other veterinary clinics in Perth, she joins the team with the desire to further her studies in veterinary nursing, or even a veterinary technician course.
Leah shares her home with Mr Fin (Finley), a beautiful 5 year old Golden Retriever, and together they love spending time at the dog beach. Leah loves the outdoors, and in her spare time enjoys camping and the ocean, as well as snowboarding.  She contrasts this with her love of musical theatre.
Welcome to the team Leah!
AMY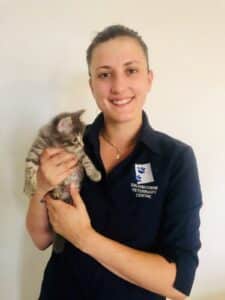 VETERINARY NURSE
Amy joined our nursing team in November 2022. She spent some of her childhood growing up in Europe (Italy and Austria) and England, before moving to Perth when she was 10 years old.
She shares her life with her Beagle X Kelpie dog "Stevie", two Dwarf Lop rabbits "Jerry" and "Newman" and "Guacamole", her pet rat.
In her spare time, Amy enjoys hiking, camping, reading and a nice glass of wine! She has a keen interest in wildlife and conservation, and hopes to eventually become an environmental scientist and make meaningful contributions to that field.
Amy has certainly made wonderful contributions already to our team here at Swanbourne and we are thrilled to have her with us. So look out for Amy when you are next in at the clinic!
ELLA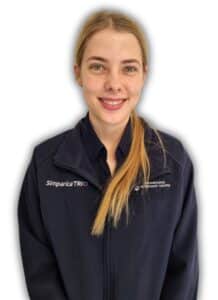 VETERINARY NURSE
Ella joined the team as a qualified Veterinary Nurse in August 2023.  She grew up in the wheatbelt town of Tammin on a mixed cropping and livestock farm and boarded at St Hilda's for her high school education.  She completed Cert 4 Veterinary Nursing course, and has previously worked at a Doggy Daycare Centre.
Ella shares her life with Sophie, her Cavalier King Charles Spaniel X dog who was a rescue, and Max, her Border C0llie X Kelpie dog who still works on the farm.
In her spare time, Ella enjoys travelling, baking, sewing and helping out on the farm when she returns home.   She has a passion for wildlife and conservation and hopes to build on her experience as a veterinary nurse, working with wildlife and in mixed practice.
ELLA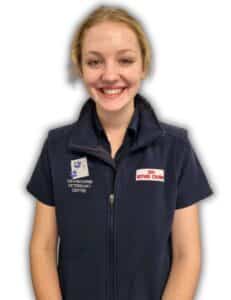 TRAINEE VETERINARY NURSE
Ella joined our kennel hand and trainee nurse team in September 2022. She is a farm girl having grown up in Brunswick Junction with horses, cows, chickens and dogs. She attended school in Bunbury before moving to Perth to gain a Bachelor of Science qualification at UWA, majoring in zoology and conservation biology.
Ella has always had a love of animals and she now plans to achieve her certificate IV in veterinary nursing whilst working in veterinary practice.  Her long term goal is to go to Africa and work with endangered animals.
Ella shares her life with her horses Indi and Wilga, and her dog Zip.  In her spare time, Ella loves the beach, snorkelling and scuba diving.  She also enjoys music, and plays the piano and the ukulele. Most of all, Ella loves animals especially African safari animals.
Ella is a wonderful addition to our team and we can't wait to see her achieve her veterinary nursing goals!
GEORGIE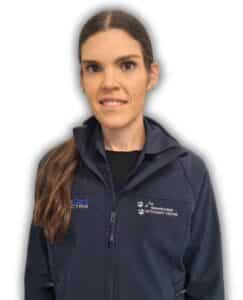 TRAINEE VETERINARY NURSE
Georgie joined our kennel hand and trainee nurse team in August 2023. She is a Perth girl having grown up in Swanbourne and attended Presbyterian Ladies College.  We came to know Georgie through her family bringing their Border Collie dog Beau to the practice for many years!
Georgie has already completed a Bachelor in Psychology, and attained Cert II in Animal Studies.  She is currently studying Cert IV in Veterinary Nursing whilst also working in veterinary practice.
Georgie loves animals and also enjoys spending time at the beach.  Aside from becoming a qualified Veterinary Nurse, Georgie also has plants to travel and see the world!
CHARLES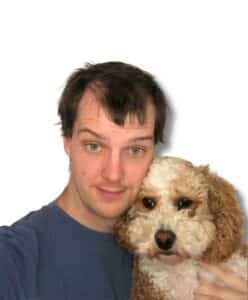 KENNEL HAND
Charles has been a long standing employee at our clinic, starting with us in October 2011.  Charles works every Saturday morning as a kennel hand, assisting in feeding all the boarding patients, walking the boarding dogs, and ensuring the practice is clean and tidy!
Charles is a Perth boy, having attended Christ Church Grammar School. He has successfully gained his white card and also works as a pharmacy stock holder.
Charles shares his life with his partner Sarah and his beautiful Cavoodle Louie. In his spare time, Charles enjoys drawing, writing, playing video games, bike riding and of course helping animals. Charles has a goal to one-day publish his own graphic novel!
Look out for Charles when you next come to visit us on a Saturday!
JESS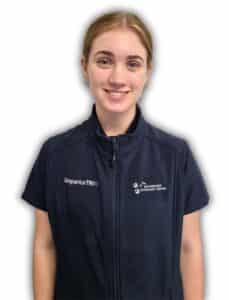 KENNEL HAND
Jess is a 3rd year Neuroscience student at University of WA, who joined our team in July 2023 working as a kennel hand.
Jess hails from England (Warrington) but spent most of her childhood growing up in Perth and attended Penrhos College.  She is thoroughly enjoying her neuroscience course but has ambitions to commence Veterinary studies to become a Veterinarian, once she has completed this first degree.
Jess shares her life with her 2 fur babies Ginger and Harley, Lhasa Apso X Shitzu brothers! In her spare time, Jess enjoys going to the gym, hiking, reading and baking as well as volunteering at the DRWS wildlife shelter.  She also enjoys running and plans to run a half marathon soon!
JAIMEE
RECEPTIONIST
It is with much pleasure that we introduce Jaimee who joined the squad here at Swanbourne mid November 2014 as a receptionist. Jaimee comes from Whangarei in the North Island of New Zealand having arrived in Perth in July 2013.
She worked for a Pathology laboratory in NZ, then Barbagallo's here in Perth before joining us, and spends her leisure time playing netball, keeping fit in the gym, socialising with friends, and at the beach.  She has a naturally afflicted with a passion for the All Blacks.
Animals have always been part of her life coming from a farm so cats, dogs, birds, rabbits and fish plus a pet lamb and cows are very familiar to her as she looks forward in her new job and where that will take her, including possibly veterinary nursing.  Jaimee shares her home in Perth with her partner Paddy and their son Caleb, bull terriers Boomer and Bronco, and Benji the domestic shorthair cat.
AARON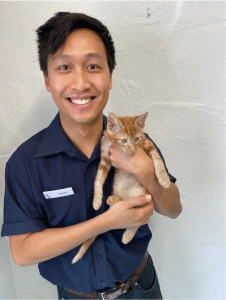 RECEPTIONIST
Aaron started at the practice in August 2021.  He is a 3rd year Murdoch Vet Student who has completed a BSc (Bachelor of Science) in Melbourne.
A North Melbourne supporter, he has a theory that his upbringing in a pet-less home may have initiated his love of animals, and has developed very strong ties with animal shelters and sees himself as a Shelter Vet when he graduates.
At school he learnt piano and the saxophone from an early age, and guitar and other instruments as a teenager and was an instrumental music teacher before his love of animals drew him to a veterinary pathway.
He attained a managerial position within the RSPCA in Victoria and realized his real interest lay in Shelter Medicine and hence veterinary science became his goal.
His move to WA was to enter the Vet Course at Murdoch and feels strongly about educating people in animal welfare with the future perhaps holding for him a role in the education of owners and families about responsible pet ownership.
Well done Aaron. We hope the Swanbourne experience can facilitate the reaching of your goals.
TING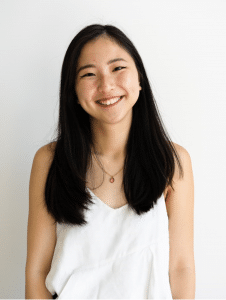 RECEPTIONIST
Ting started at the practice in July 2021.
She is currently in 2nd year at the Murdoch Vet School (DVM) and comes from Singapore but spent most of her life in Melbourne moving here in 2020 enrolling in Animal Health/ Science before transferring to the DVM program at the end of first year.
She previously graduated from Melb Uni in 2014 with a BA (Bachelor of Arts) in Criminology and media communications and worked in PR and the Communications industry for 3 years as a Content Executive.
She has a brindle greyhound "Ollie" who is a foster fail from Melbourne with whom she shares the same birthday and "Juni", a ginger and white lockdown rescue cat called "Goblin"
Her interests include hiking, art galleries and museums, and at this stage is aiming at small animal surgery/critical emergency care but has her options open.
Well done Ting and we hope to assist you in your pathway which is already rich and successful.
TYRA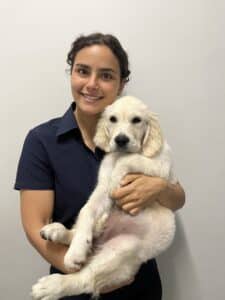 RECEPTIONIST
Tyra joined our team of receptionists in August. Having completed high school in Perth, Tyra lived in the Kimberley at times during her childhood, including Kununurra and Broome. However, she has always loved returning to her abode in Fremantle.
She completed a Bachelor of Science majoring in Physiology at UWA in 2019. Tyra is now currently in her 2nd year of the Doctor of Veterinary Medicine Course at Murdoch University, and expects to graduate as a Veterinarian in 2025.
Tyra shares her home with two wrinkly and slobbery Shar Pei X rescue dogs – 3 year old Maverick and 4 year old Remi.
In her spare time, Tyra loves a good outdoor adventure involving camping, hiking, four-wheel driving, mountain bike riding or scuba diving! However, she is certainly also very excited to explore the many avenues that the veterinary profession has to offer.
Welcome to the team Tyra!
AMELIA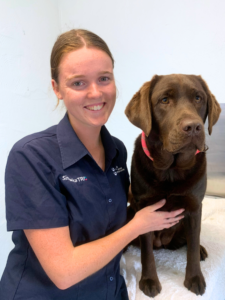 RECEPTIONIST
Amelia is a 3rd year vet student at Murdoch University, who has joined our team working on the front desk and as a kennel hand.
Amelia is a Perth girl who grew up in Cottesloe and attended Presbyterian Ladies College.
In her spare time, Amelia enjoys spending time with her Border Collie dog Maisy, taking her with her wherever she goes – the beach, the park…. the only place Maisy can't join Amelia is for a relaxing weekend at Rotto!
Welcome Amelia, and be sure to look out for her when you are next in the clinic!
SUZANNE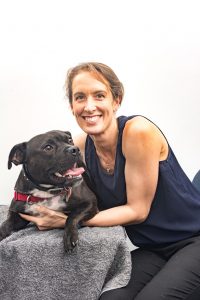 ACCOUNTS MANAGER
Suzanne has been a part of the Swanbourne team for several years, looking after the book-keeping and administration aspects of the business.  She has previously worked in managerial and sales roles with telecommunications and property development companies.  Suzanne has attained a diploma in Business Management, Certificate IV in Book-keeping, and Certificate IV in Accounting.
Suzanne shares her home with husband Richard, two busy young boys Riley and Samuel, and fur-baby staff Lola.  She is an avid West Coast Eagles supporter, however being Tony's daughter-in-law, is also somewhat obliged to follow Geelong!!
In her spare time, Suzanne chauffeurs the kids to their sporting commitments – Riley is a passionate AFL footballer and loyal Cats supporter, whilst Sammy enjoys his soccer and basketball – and she loves watching them play.  She also enjoy pottering in the garden, her daily run with Lola and swimming.  Family holidays, Rottnest escapes and time out together on little adventures also completes Suzanne's life, when she's not at Swanbourne taking care of the books!