Road Test: The Labradoodle
These so called designer dogs, albeit crosses, have become as popular or more so than the pure breeds from which they are derived.  The Cobber Dog is considered to be a more established type compared to the initial Labradoodle.
The breed was initially based on a first cross of the Labrador and the Standard Poodle and was an attempt to create a dog (in this case a guiding dog) that would be more practical regarding dropping hair, and hence less allergenic, whilst combining the obvious traits of the Poodle.
So, a practical reason to create a Designer dog, and the breed had its early roots in Victoria (Australia) as has the more refined Cobber Dog which, whilst claimed to be quite different still has its roots in the same basic first cross albeit more established now.
When bred, this type is apparently more predictable regarding progeny but still not recognized universally as an established breed.
One of the new designer breeds, the Labradoodle was the brain child of Wally Cochran in Australia in the 1970's.  His aim was to produce a new breed that incorporated the good points of the original breeds, and in this case to create a dog that could guide the blind but be allergy free for people who were allergic to dogs. These dogs have been successfully trained as seeing eye dogs but as yet the non-shedding characteristic of the Poodle has not become a fixed attribute of this new breed.
More recently the breed has been further developed from the original authentic strains of Australian Labradoodle to the Australian Cobberdog and was recognized as a pure breed in January 2012.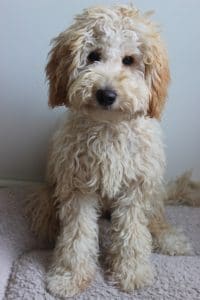 HISTORY:
Labradoodles are yet to be accepted as a breed in either Australia or USA but this new breed never the less is a valid attempt to create something positive and to eliminate or lessen the unfavourable genes in the original breeds. As mentioned above the Australian Cobberdog has developed as a descendant and was registered in 2012 by the Master Dog Breeders and Associates (MDBA) Global Pure Breed registry.
Originally the Standard Poodle was crossed with the Labrador Retriever and after initial success the idea took off with several different breeders taking on the idea, but alas, with inconsistent results. Two research facilities (Tegan Park and Rutland Manor) further developed the concept and now Labradoodles are being successfully bred in Australia and exported overseas.
It is still too early to say if they have achieved their goal of breeding assistance dogs that do not shed hair but the later development of The Australian Cobberdog and subsequent registration as a breed indicates this is being achieved as this breed has shown particular suitability as Therapy Dogs, Medical Alert Dogs and Assistance Dogs.
APPEARANCE:
These dogs come in three sizes, standard, medium and miniature with standard and miniature being the most common.
Initially the standard dog was bred and it is slightly heavier in the body than a standard poodle with a muzzle slightly narrower than a labrador retriever.
They have a broad head with a coat length of between 10-15cm and the texture similar to an Angora goat. More a fleece than a hairy coat so does not shed and far more allergy friendly though allergies to dog saliva will still abound.
The coat is described as either curly or wavy and colours are chalk, cream, apricot, chocolate, café au lait and silver.
They are 53-60cm in height and weigh between 20-35 kg in the standard variety with the miniatures standing between 43-51cm and weighing 12-20kg. The medium is less common and falls between these two.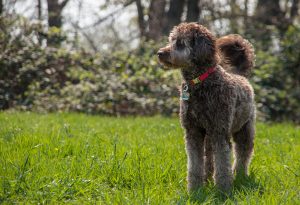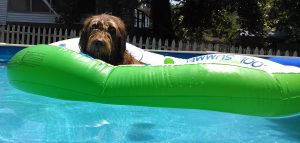 CHARACTERISTICS:
The breed is well known for its intelligence, trainability and good humour.
They get along well with other dogs, people and children and whilst loyal to their family they are very friendly.
They are a non aggressive dog and almost comical in their behaviour at times, and because of their intelligence they can become undisciplined if not socialized early and obedience trained, as with the parent breed the Labrador.
They live to between 13-15 years and in line with the aims of the exercise, highly strung, timid and yappy examples are not bred from, in the quest for the perfect guide dog.
WHO SHOULD HAVE ONE:
This breed make a great family pet, loyal, good with children and other pets and totally non aggressive.
They need a lot of exercise but do quite well in apartments though an exercise yard is preferable.
The curly coat variety need regular grooming every 2 weeks or so with a trim/clip some 2-3 times a year. Ideally they shed very little or not at all and hopefully demonstrate the non allergenic qualities that are so sought after.
Equally they should have less ear problems than the poodle with hairless ear canals and are generally lighter than the Labradors with potentially less joint problems as they get older.
Therefore not a high maintenance dog.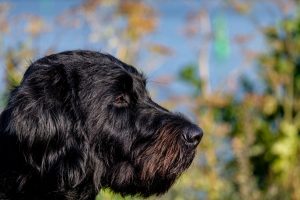 VETERINARY PROBLEMS:
As breeding progresses, and in reality, we see hip dysplasia (an early degenerative arthritic condition in the hips), elbow and knee cap disorders, ear problems (due to the long, pendulous and often hairy ear flaps and canals) and other issues plaguing the two parent breeds. These are however less common than in the original breeds in most cases.
Blood disorders such as Von Willebrands disease (a bleeding disease) are also reported.
In summary, we as vets are seeing more and more of these dogs as they become popular in the "puppy mills" being essentially a cross breed still at this stage.
They are joined by other designer dogs such as spoodles (spaniel cross poodles) and schnoodles (schnauzer cross poodle) and whilst these produce considerable interest and command considerable sums of money in some quarters, they do not always represent sound genetic thinking. In not every case does so called hybrid vigour occur. In many instances it can be that you may finish up with an even smaller gene pool with even more problems than the originals.
In the main however Labradoodles do seem better established than many of the others and like most things researching the subject and picking a reputable breeder is a wise philosophy.
The further development of the breed to The Australian Cobberdog has enhanced and strengthened the breed and ironed out many of the original problems.