Road Test: The Irish Wolfhound
The world's largest sighthound, this dog is the original gentle giant, which is just as well as they can stand over 7 feet tall on their back legs fully grown and weigh over 80kg,
Originally bred to chase wolves, elk and wild boar they lost favour in the 1800's when wolves vanished from the British Isles and were resurrected as a breed in the 19th century by a British Army Officer who worked with the few remaining dogs and introduced Great Dane and Deerhound blood to re-establish the breed.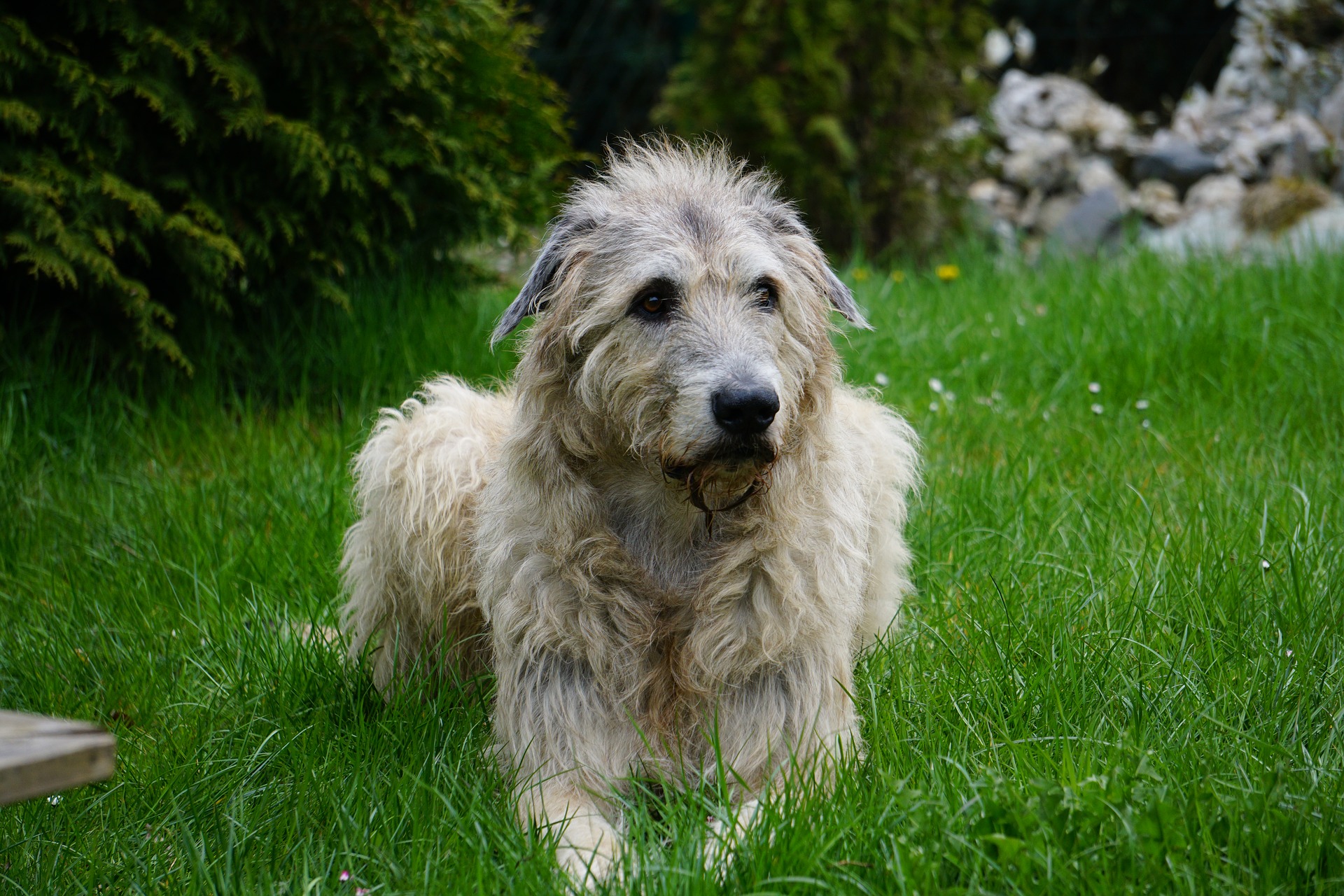 HISTORY:
As with many ancient breeds there is considerable variation in opinion as to how this breed arose. They may have descended from dogs brought to Ireland by the Celts in 1500BC (the Cu), or from old breeds indigenous to Ireland. Other opinion suggests they started as a cross between the Irish sheepdog and the Arabian greyhound and still others who claim they were derived from Deerhound to create a breed to hunt and kill wolves.
In any event they all but vanished in the 18th century only to be rescued as a breed in the 19th century and now are used as a companion dog.
APPEARANCE:
These are a massive, muscular dog which can reach the size of a small pony being one, if not, the tallest breed in the world.
They have a rough, shaggy coat which can be grey, brindle, liver, black or white  (though grey is most common), and their signature apart from huge size are their wiry, bushy eyebrows.
They have large round paws, arched toes and curled nails, a long head with moderately pointed muzzle, arched neck, deep chest and strong shoulders.
They have a dignity and grace in their movements on the one hand though can appear clumsy on the other (like an AFL ruckman compared to the nimble on ballers).
The tail hangs down with a slight curve and their ears are generally carried back (as with other sighthounds).
They grow 71-90cm in height and can weigh 40-80kg. Regrettably they are short lived…between 6-8 years being the norm.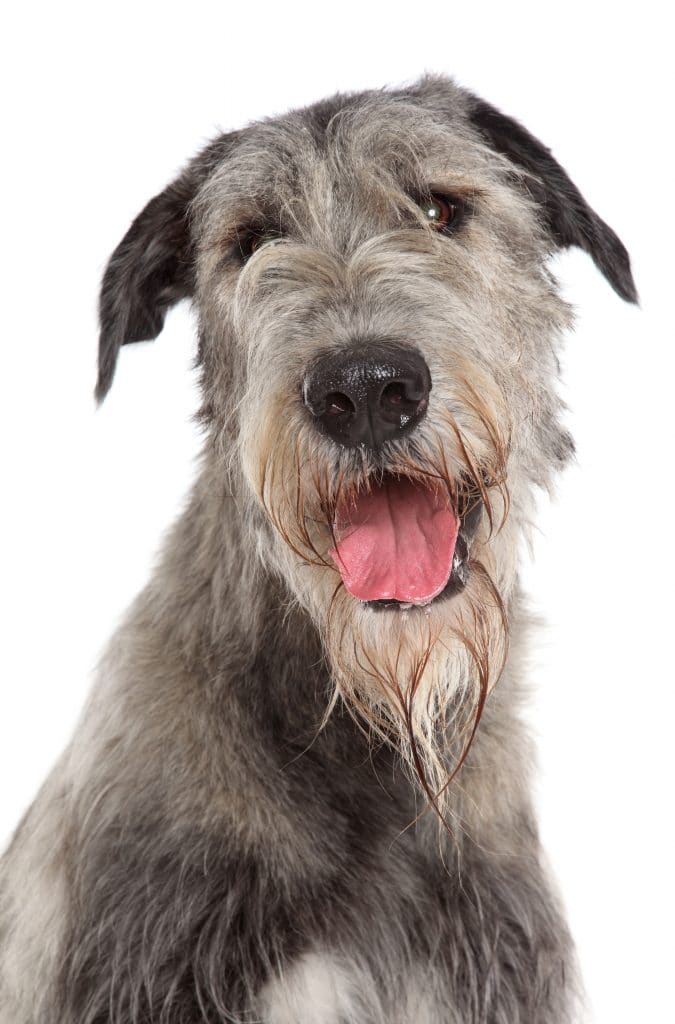 CHARACTERISTICS:
A sweet tempered and patient dog they are intelligent and dignified.
Excellent with children, other dogs and pets generally they are not a guard dog though their sheer size can be a deterrent!
They bond strongly to their human family and are very loyal, are quite easy to train and require a firm but gentle hand. In fact care needs to be taken as they can lack confidence during development so consistency and a positive approach is essential.
They grow very rapidly and so must not be over exercised during this growth period which may go on for 2 years as they reach their full size. A carefully prepared growth diet is essential to avoid deficiencies and hence growth abnormalities during this growth period.
WHO SHOULD HAVE ONE:
Excellent with children, they are friendly to a fault with strangers, other dogs and pets generally so they make an ideal family pet. However, they are not for everyone as space to manage and house a dog of this size is the main issue in every respect. Everything about them is big, so a large house, backyard, car, and so on are necessary. They do not need huge amounts of exercise but it must be regular and if possible in an enclosed space as being a sighthound they will chase and forget you if the occasion arises.
The rough, medium length coat needs regular and thorough grooming and as with other wire haired breeds the coat needs to be plucked rather than clipped every so often. They are an average shedder of hair.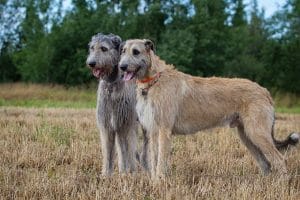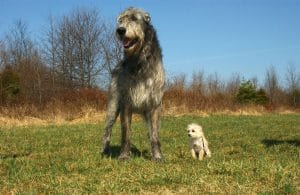 VETERINARY PROBLEMS:
This is unfortunately another draw back with them in that they suffer from a variety of conditions.
Cardiomyopathy (a weakness in the heart muscle), bone cancer (osteosarcoma being the commonest), bloat (dilation/torsion of the stomach following eating, which leads to emergency surgery), PRA and cataracts (eye problems), Von Willebrands disease (a blood clotting defect), hip dysplasia (an hereditary, early onset, arthritic condition of the hips), hygromas (elbow and hock bursae), hypertrophic osteodystrophy and osteochondritis dessicans (joint and growth plate anomalies of the bones during development), are just some of the documented problems.
Many of these problems arise from their huge size, deep chest and rapid growth phase, so in taking on an Irish Wolfhound you need to be friends with your local vet and regrettably be prepared not to have them much over 6-8 years.
In summary, temperament wise there is a not a gentler animal and in all those respects they make a great family pet. In reality the sheer size of the dog creates major logistical problems for most would be owners.