Road Test: The Cardigan and Pembroke Corgis
Whilst these are two entirely different breeds now this has not always been the case and free interbreeding occurred until the last 70 years. Both Welsh in origin (from neighbouring counties Pembrokeshire and Cardiganshire) they have developed different personalities and body shapes and sizes since becoming independent from each other and remain one of the most popular pets and companion animals the world over.
HISTORY:
Both types may have descended from the Swedish Vallhunds brought to Wales by the Vikings in the 800's. There is some opinion that the Cardigan may be much older having been brought to Wales by the Celts in 1200 BC, and the Pembrokes by the Flemish weavers in the 1l00's (AD). In any event the name Corgi comes from the Celtic word meaning "dog" and both were developed to drive cattle, barking and nipping at their heals. Both were also used as vermin hunters and farm guards but now are primarily companion dogs. The Pembroke is more popular and has found favour as the chosen companion of Queen Elizabeth the second.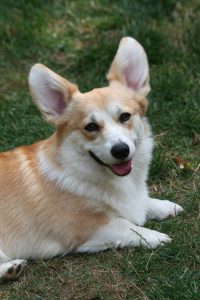 APPEARANCE:
Both are low, long dogs with large erect ears, broad flat skulls and fox like heads.
The Pembroke has traditionally a docked tail (though no longer legal in Australia), straighter legs, a shorter body smaller ears and a wedge-shaped head. It is also a lighter dog than the Cardigan. The Pembroke comes in red, sable, fawn, or black and tan with white markings and is around 25-30cm in height and 11-14 kg in weight.
The Cardigan has an undocked tail, larger ears, and comes in brindle, blue merle, black, black and tan, black and brindle, sable, and red, often with white markings.
Both breeds live between 12-15 years.
CHARACTERISTICS:
Both are highly intelligent, obedient, protective and robust. They are both willing to please, active, devoted and usually good with children.
They also make good guard dogs, excellent show dogs and excel as obedience dogs. They both need socialization and dog obedience classes in early life particularly the Pembrokes. The Cardigans are less sociable and more territorial whilst the Pembrokes are more outgoing, restless and can be excitable.
Both breeds may try to herd people by nipping at their heals though good training sorts this out. They are good alarm barkers and this can be a problem in suburbia and the males of both breeds can be dog aggressive.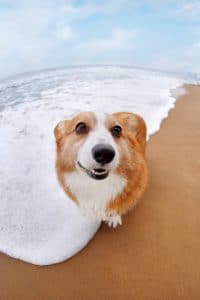 WHO SHOULD HAVE ONE:
These are both good with children though they need early socialization and training. They are very territorial and hence good guard dogs. Barking can be a problem and the males can be dog aggressive. They are active indoors so don't need large backyards and are good for apartment living.
They are both low maintenance dogs with an easily groomed coat, minimal bathing and only moderate shedders. The coats of both are medium length and water proof with a soft undercoat and a harsher outer coat, and both need exercise and diet control or they will develop weight problems as they get older.
VETERINARY PROBLEMS:
Both suffer the same issues… generally minimal but they do develop progressive retinal atrophy and breeding stock should be screened. Glaucoma can be a problem and when overweight back problems and hind leg problems (such as ruptured cruciate ligaments) can occur as they get older. In Perth we see some skin problems but generally these are hardy breeds.
In summary both the Cardigan and the Pembroke Corgis make ideal companion animals for the average family. As with most breeds early socialization and training is essential. Their relative small size and moderate exercise needs makes them ideal for a suburban environment and they are low maintenance.
All in all they come highly recommended and enjoy considerable popularity in suburban Perth where inspite of their small size they make up for this with their big dog attitude.