Road Test: The Australian Kelpie
The Kelpie is an Australian sheep dog successful at mustering and droving with little or no guidance. It is a medium sized dog and comes in a variety of colours. The Kelpie has been exported throughout the world and is used to muster livestock, primarily sheep, cattle and goats. The Kelpie's signature move is to jump on the backs of sheep and walk across the tops of them to reach the other side of the mop and break the "jam".
HISTORY:
The Australian Working Kelpie is one of Australia's truly National Dogs and was first registered as a breed in Australia in 1902, one of the earliest registered breeds in Australia. This was actually 4 years before the Border Collie was registered as a breed in Britain. Kelpies have been claimed to have some dingo blood and they are similar in conformation and colour having evolved in the 1870's. There were a number of Kelpies called Red Cloud and one became very famous in WA and this started the tradition of calling all red or red and tan Kelpies, especially those with white chests, Red Cloud Kelpies.
Its origins lie in Scotland, where a number of collie-types ("collie" is Scottish for sheepdog) contributed to the development of the breed as we know it.  The name "kelpie" comes from the water kelpie mentioned by Robert Louis Stevenson, the Scottish writer, in the novel Kidnapped.  They were developed to handle the harsh, hot landscape, extensive acreage and unruly Merino sheep on Australian sheep stations.
APPEARANCE:
A compact, robust and tireless working dog they are excellent herders. The black and tan is regarded as the truest colour of the working Kelpie but they also appear in red, blue or fawn, with or without tan. Generally double coated they have a close outer coat and a short dense inner coat.
They are athletic with muscular shoulders and a strong hindquarter.
They grow to between 43-50cm and between 12-22kg in weight and live to 10-14 years.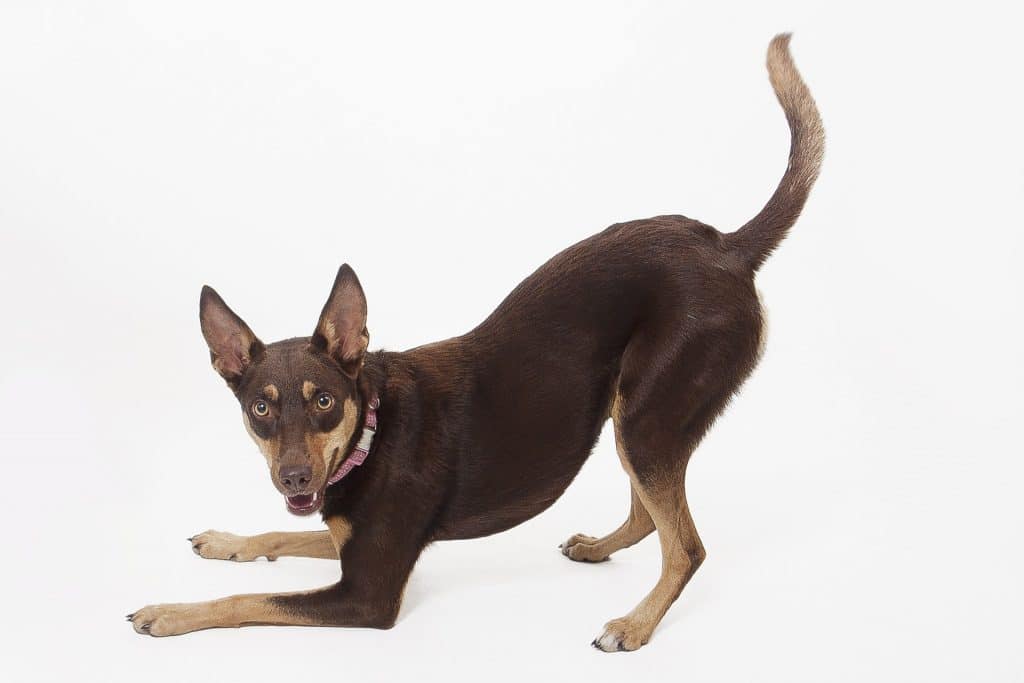 CHARACTERISTICS:
They are workaholics and rub until they drop. Tending to be one man dogs they require a strong owner who exhibits natural calm but firm authority and problems will arise if the owner does not take the lead. They require a job and so will become bored and destructive if not given enough exercise and stimulation. Certainly not recommended for apartments. They are an all weather dog and are content to live outdoors with adequate shelter. With extremely high energy levels they need daily runs and make a great jogging partner. As working dogs they have a gathering style using eye, bark and bite (grip) to move stock.
Agile, eager and alert they are highly intelligent. They are good with children as long as they are properly socialised though will try to herd other dogs, pets, animals and children.
They can easily cover 60-80 km a day when fit and whilst not naturally aggressive are good watch dogs and will protect their family.
WHO SHOULD HAVE ONE:
Not ideal for suburbia but if properly socialised and well exercised will make a great pet as long as you don't expect them to be a couch potato or live in the backyard unattended. They will find a job to do and it may not be to your liking!
The coat requires minimal grooming and a rub down with a rubber glove or chamois is all that is necessary every so often.
They make good watch dogs and guard dogs and they are ideal for Perth's climate being prick eared, short coated and around 20kg in weight which are my personal guidelines for an ideal dog in Perth.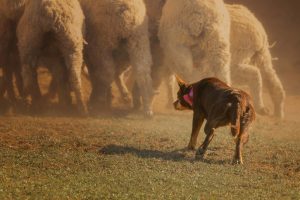 VETERINARY PROBLEMS:
They are a hardy breed with few problems, but are susceptible to common disorders like all dogs. hip dysplasia (an early onset hereditary arthritis of the hip joints) , luxation patellas, cryptorchidism, and PRA (progressive retinal atrophy which is a heritable condition resulting in retinal deterioration and blindness).
In summary, an Australian icon immortalised in the film Red Dog in which the star won the hearts of all Australians. Red Dog died in November 1979 and the movie based on his story was made in 2011.
Ideal for Perth's hot climate but city living may be a problem, unless the dog has been properly socialised and trained. They are ideally suited to a rural existence where their boundless energy can be directed towards a job in hand.
Not for everyone but a quintessential sheep and herding dog the world over.