Meet your pets' dedicated care team
DR TONY VIGANO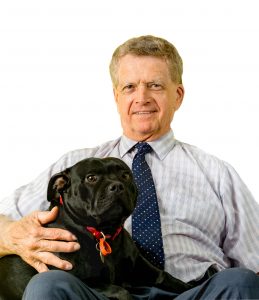 PRACTICE OWNER AND VETERINARIAN
Tony joined the practice in January 1969 after spending 2 months as a student in the Christmas of 1967/68. He was employed to allow the fledgling Doubleview practice to increase its hours and apart from a period 1973-76 spent in the UK has been here ever since. He joined Ian Miller in partnership in 1976 and became the sole owner in 1988 on the tragic death of Ian in that year.
A past president of the WA Division of the Australian Veterinary Association (1984), he was inaugural chairman of the Australian Veterinary Boards Council (1999-2001) and was a member of the Veterinary Surgeons' Board in WA from 1988-2003 and chairman from 2001-2003.
He remains active within the AVA and is currently a co-organiser of the WA State Conference held in September concurrently with the AVA/Murdoch/Trade Fair that he has convened since 1981.
He also holds a regular weekly time slot on talk back radio (6PR) since 2001 and is currently a senior sessional member of the State Administrative Tribunal since 2005.
Since the sale of the Doubleview practice in March 2004 he has assumed a more active hands on role at the Swanbourne practice and completes 42 years in practice at the end of 2010.
To say he is enjoying the success of his beloved Cats (Geelong Football Club) is an understatement. An active supporter since 1955 he has been ecstatic with their current success.
GO CATS 2017
"Simply the greatest team of all"
DR MICHELLE HARRISON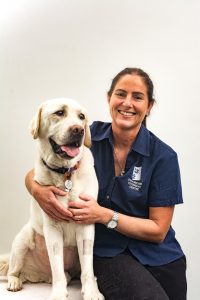 PRACTICE OWNER AND VETERINARIAN

Michelle joined the practice in September 2005 not long after she and her family arrived in Australia from England.
Born in Scotland, she was brought up on the tea plantations of India and Malawi.  She later returned to Scotland, attended university in Glasgow, and qualified as a vet in 1995.
She spent the next 2 years in the Welsh hills treating anything from hamsters to bulls.  It was here she met her husband, Harry, and together they then moved to the Cambridgeshire Fens where she spent a further 2 years in mixed practice.
Realising that the safe, warm, clean confines of surgery appealed to me more than the cold, dirty, often hazardous conditions of large animal practice, I hung up my wellies and moved to a small animal emergency hospital in Bedfordshire where I worked until June this year.
During this time our dogs, Murphy and Alex, and cat, Zulu, endured the arrival of our two daughters, Chloe (three and a half years old) and Amy (17 months). In July 2005 all of us, including the animals, arrived in Perth to start a new life in the sun with the emphasis on spending more quality time as a family.
On the vet front, I love the diversity of general practice but my main interests include surgery, orthopaedics, dentistry and rabbit medicine.
Now 5 years on she is a real Aussie and she and her family are firmly entrenched here in Perth.
DR MELANIE CRIDDLE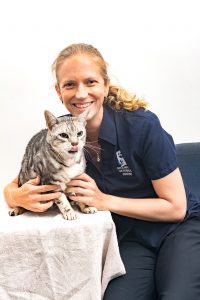 PRACTICE OWNER AND VETERINARIAN
Melanie joined us in March 2011, having previously worked in a mixed animal practice in Geraldton, and in small animal practice in Perth.
A 2001 Murdoch graduate, she completed her membership of the Australian College of Veterinary Scientists in small animal medicine in 2007 and has a special interest in this field and cancer care.
A local girl, having been educated at St Hildas, Melanie is married to Paul, a thoroughbred racing steward, and they have two children, Jordan and Madison.
Her outside interests include boating, scuba diving and snorkelling and she also plays the piano.  To round off the household they share their home with a Bengal cat Cooper and Jake the Beaglier .
Melanie is committed to providing a high quality of care to her patients.
DR MONICA LIN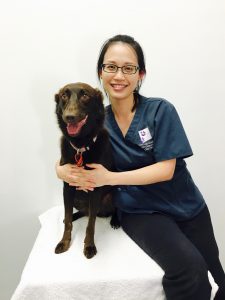 VETERINARIAN
Monica joined the practice in July 2011 and recently returned to work part time after becoming a mum to baby Freya. She is definitely a super-mum and continues to run her kelpie Cherry everyday and is hoping little Freya will join the run in the near future.
Monica also has 3 cats at home (Luna, Ashlee and Silver) which she describes as the destructive indoor variety honing her house keeping skills on a regular basis!
Originally from Taipei where she graduated with a Bachelor of Science in Zoology, she decided to follow the pathway of becoming a veterinarian after her own dog had an unsuccessful procedure and joined a practice working part time before she came to Perth.
Once in Perth she applied to the Veterinary course at Murdoch University and subsequently met her husband Joshua, so all the pieces started to fall into place.
A real pocket rocket Monica feels her size limits her in sports but loves dancing, swimming, scuba diving and table tennis and from what I can see her determination more than makes up for her small stature.  Soccer and tennis absorb her as a spectator though Tony has been trying to sell her the benefits of following the Mighty Cats!
She has completed an acupuncture certificate and she now offers acupuncture services within the clinic and also as home visits.
DR LAURA HICKMAN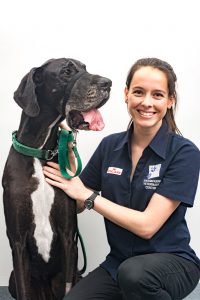 VETERINARIAN
Laura is a local Perth girl who initially studied Engineering at UWA where she met her fiance Ian, and then switched to the Veterinary Faculty at Murdoch. She completed 9 years at University on graduation with her Veterinary degree, which she rates with obtaining a job here at Swanbourne as one of her biggest achievements to date.
She includes surgery, dermatology and possible future specialisation as her main interests, and would love to do volunteer work overseas, for example with Vets beyond Borders in Indonesia or India (doing spays etc.).
She and Ian share their lives with Bella, an 8 year old Great Dane and Daisy, one of our adopt-a-cats, and her outside interests include cooking (she is an avid foodie), creating recipes, eating out and so on.
Many of you will know Laura as she has worked at Swanbourne for years – on weekend reception and in the kennels prior to that, so we have a long association with her.  She will be a great asset to the practice and I feel sure will keep the other vets on their toes!  It is a pleasure to be part of the development and the journey of people like Laura and we hope to hang on to her for some time!
KRISTY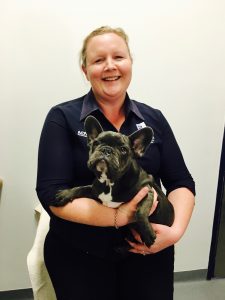 VETERINARY NURSE AND PRACTICE MANAGER
Kristy is one of our success stories joining the practice fresh from school 12 years ago as the kennel hand. At the same time she enrolled in the part time Veterinary nursing course at Bentley TAFE which she completed with ease and then joined the full time nursing staff at Swanbourne.
Her reliability and unflappable nature have made her an integral part of the practice and she ensures the back half of the practice functions efficiently organising the vets, monitoring anaesthetics and supervising the younger staff.
Most clients will know Kristy as the admitting nurse in the mornings when animals are booked in for surgery and she also conducts the Wellness checks that have become a feature here at Swanbourne as part of our commitment to preventative medicine.
Kristy also plays an enormous role in the practice coordinating school visits to the practice, attending career sessions with Tony at secondary schools, and mentoring work experience students when they spend time with us either as part of the Instep programme or as part of school curriculum.
This part of veterinary practice goes largely unnoticed by the general public but in view of the immense career popularity of our work we are constantly trying to cater to all the enquiries we get from budding vets and nurses.
Currently we have a trainee veterinary nurse at the practice full time under Kristy's supervision. All this plus ordering the daily supplies from the wholesalers, does she ever sleep?
She took the plunge in April 2009 marrying Mark and they share their life with Storm a 6 month old Staffie
KYLIE
HEAD VETERINARY NURSE
Kylie is one of our senior veterinary nurses. She commenced with us in March 2005 as a kennel hand and grooming assistant, whilst doing the nursing course part time.
From Tambellup, Kylie attended the local primary school and then completed her TEE in 2004 at the Katanning High School. She relocated to Perth and commenced a government traineeship in veterinary nursing which allowed her to work full time with us during the course.
The family has a farm in Denmark, and coming from a country background there is no shortage of pets in the household with dogs Derri and Mite, along with a pet sheep and fish. Having done work experience at a vet clinic in Bunbury, as well as helping her father in the shearing shed during school holidays, we believed Kylie was the perfect choice, and she has certainly fulfilled our hopes.
Currently and as a side line she is highly sought after as a live-in dog sitter for a select group of clients when they are away on holidays.
NAOMI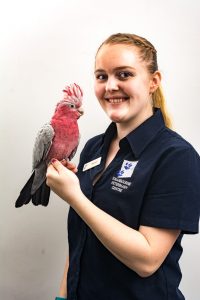 VETERINARY NURSE
Naomi has had a desire to be a veterinary nurse since the age of 9 and after finishing her TEE in 2007 she completed the Certificate 3 Companion Animal Services including dog training and behaviour. In 2010 she completed the Certificate 4 Veterinary Nursing course and has been working for Bakers Delight as supervisor prior to accepting our position.
She is passionate about animal welfare, Giant Pandas and the West Coast Eagles (pity about that!), and shares her life with her 2 cats – Nala and Mr Mario, Ratchet the always happy and bouncy kelpie, and lots of fish!
She also enjoys volleyball, gardening, baking and all things artistic all of which compliment our impressions of this young lady as a well rounded character who has already shown great aptitude on the desk where she will spend most of her time. Look out for her when next you come in.
MICHELLE
VETERINARY NURSE
The newest addition to our veterinary nursing team joined us in April 2014 having completed her nursing course (certificate 4) in 2013.
Michelle grew up on a large sheep and grain farm in the Great Southern town of Jerramungup attending the district high school until year 9 after which she completed her education at Penrhos in 2009. She attended TAFE here in Perth completing several animal related certificates including the cert 4 nursing qualification.
Like most country girls she worked extensively on her parent's farm as she grew up. As a general rouseabout, on the wheat bins, drenching, needling, drafting and jetting sheep she gained lots of experience and it is no mystery that she is now a veterinary nurse. Throw in chaser bin driving, work at a reptile park, and volunteer work with native animals it is no surprise she looks forward to continuing specialised courses as she furthers her studies.
In all of this she finds spare time to play netball, as well as scrapbooking, cross stitching and card making. Sharing her life with partner Robert they have plans to one day travel the world with an emphasis on France.
It is a pleasure to be surrounded by people like Michelle in our every day work and we look forward to her long association with the practice.
COURTNEY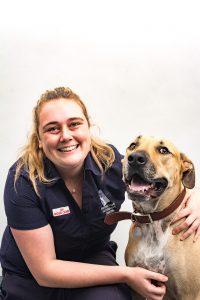 VETERINARY NURSE
Courtney joined us as part of the School based traineeship program. This means Courtney continued at St Hilda's to finish year 12 but also joined our team on Fridays.
She has now commenced her Certificate 4 in veterinary nursing at TAFE, and attends Bentley TAFE on Thursdays.
Together with her two sisters and two brothers, she grew up in Pingrup 400km south of Perth where her parents have a wheat and sheep farm.
She has two horses, Justin and James at home and Blossum the cat, plus two Alpacas Jory and Kero. Currently she is a school prefect at St Hilda's and Sports Captain of the school.
She has travelled to Nepal with the school and was selected in the State Show Jumping team.
Her aim is to become a veterinary nurse in a large animal practice closer to home.
Well done Courtney we look forward to supporting you in your endeavour.
GEORGIA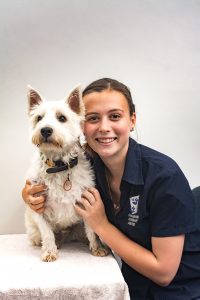 TRAINEE VETERINARY NURSE
We first met Georgia as a work placement student and she completes Certificate 4 in Veterinary Nursing, having commenced at the practice late 2015. Georgia elected to do her course on line through Open Colleges and was pleased to be able to get the practical experience along the way as this augmented her theory and is a pre requisite for the course.  She hopes to graduate at the end of this year.
More recently she has taken up a casual position at the practice as a trainee nurse and is now part of the team.
She, like most people in our industry has had an affinity with animals all her life, and particularly horses. She completed her secondary school at Bindoon Agricultural College and worked at the Belvoir Equine Veterinary Clinic during this time.
Now a local, living in Swanbourne, she shares her life with a very naughty West Highland Terrier and has forged a position for herself with us. Welcome to the practice Georgia.
RACHELLE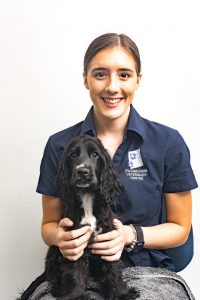 TRAINEE VETERINARY NURSE
We are pleased to welcome Rachelle to the permanent staff here at Swanbourne.
Rachelle is completing her certificate 4 nursing course and has a Science degree in Conservation Biology with the primary aim of
becoming a wildlife veterinary nurse helping in the rehab and re-introduction of native fauna into the wild.
She comes from Mt Barker where her parents have a farm near to the Porongurups, and attended Mt Barker
Community College.
A keen sportswoman she plays netball, volleyball, tennis and soccer and follows the mighty Cats in the AFL.
Her outside interests are camping and fishing and she regularly goes home to the farm where her horses Toff and Billy reside along with Mocha the dog.
Formerly a medical receptionist she joins the nursing team, but will also be seen on reception.
Great to have Rachelle on board as she continues our association with the Great Southern.
JAIMEE
RECEPTIONIST
It is with much pleasure that we introduce Jaimee Dunn our newest "draft pick" who joined the squad here at Swanbourne mid November as a
receptionist. Jaimee comes from Whangarei in the North Island of New Zealand having arrived in Perth in July 2013.
She is therefore afflicted with a passion for the All Blacks but I will have her supporting the Catters in no time.
She worked for a Pathology laboratory in NZ, then Barbagallo's here in Perth before joining us, and spends her leisure time playing netball, keeping fit in the gym, socialising with friends, and at the beach.
Animals have always been part of her life coming from a farm so cats, dogs, birds, rabbits and fish plus a pet lamb and cows are very familiar to her as she looks forward in her new job and where that will take her, including possibly veterinary nursing.
Welcome to the team Jaimee we look forward to a long association with you.
MELISSA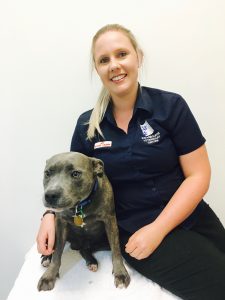 RECEPTIONIST
Another of our 'sea changers' having worked as a consultant in a commercial hospitality equipment firm, Melissa has joined us as a casual receptionist.
Melissa is a Perth girl having grown up in Kingsley and now lives in Baldivis with her partner, and Cooper their 14 month old Beagle.  Always surrounded by animals as a child, she has now decided to turn this love and concern for animals into a career as a veterinarian.
She completed an apprenticeship in Commercial Cookery in 2010 and is now doing a Bachelor of Animal Science with the goal of entering the Veterinary course at the end of 2014.
As part of this career plan, working in a veterinary practice is excellent grounding and we look forward to being part of this journey that Melissa has chosen.  She has certainly started off well, so look out for her when you next come in to the practice.
LAURA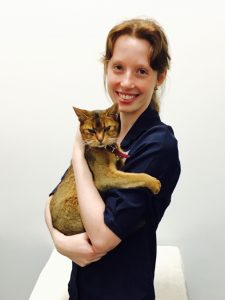 RECEPTIONIST
Laura joined us as a weekend kennel assistant 12 months ago having done work experience in 2012 and catching the eye of the Hospital Manager Kylie. She was educated at St Hilda's and is a Claremont local.
She entered the Veterinary Course at Murdoch University in 2013 having completed a mathematical modelling minor at Murdoch during 2013.
A volunteer at Native Animal Rescue (NAR) since August 2012 she caught our attention as a future weekend receptionist and has been training for this role for the last 2 months.
She lives at home and has two cats, Ayesha a blue point Siamese and Tiger Lily an Abyssinian.
An avid reader she also plays the violin!
We feel sure she will be a great success during her undergraduate years on weekends and so look out for her when next you come in.
SUZANNE